Contact & Directions

---
Adress

How to reach the Institut für Nichtklassische Chemie


---
The Institute is located at the area of Wissenschaftspark Permoserstraße in Leipzig, Germany.


Places to stay over night

Access by train
From Main station take tramway 3 (direction "Taucha") or tramway 3E (direction "Sommerfeld"), the tram stop in front of the Main Station. Leave the tram at the tram stop "Permoser-/Torgauer Straße". Cross the Torgauer Straße and walk along the Permoserstraße, after about 5 minutes you reach the main entrance of Science Park on the left. Please contact the gate-keeper to find the institute. Or you can go directly by taxi (about 10 minutes, 10.- €).

Access by car
Access via the A14 autobahn connections, exit "Leipzig-Nordost-Taucha" (from the airport, Halle, Magdeburg, Berlin, Munich) or "Leipzig-Ost" (from Dresden) in the direction of the city center to Permoserstraße (4 km).
Access by plane
Arriving on the airport Leipzig-Halle, you may go directly by taxi to the institute (about 20 minutes, 40.- €) or take the DB-RegionalExpress (train) to Leipzig Main Station.

Fares:
Airport - Leipzig Main Station -INC: about 4.50 € (MDV ticket, "Preisstufe 3")
Leipzig Main Sation - INC: about 2.70 € (MVD ticket, "Preisstufe 1")
Tickets are available at Airport station and Tram Stops.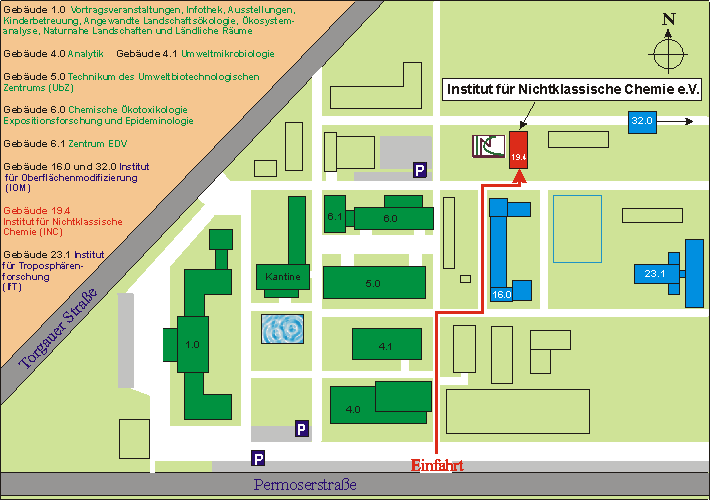 INC at area of Science Park Permoserstraße

Places to stay over night
Ibis Leipzig Zentrum
Brühl 69, 04109 Leipzig, phone: 0341/21860, location: city centre, 5 km to INC (10 minutes by car)
Holiday Inn Garden Court Leipzig City Centre
Kurt-Schumacher-Str. 3, 04105 Leipzig, phone: 0341/12510, location: city centre, 5 km to INC (10 minutes by car)
Mercure Hotel Leipzig Am Johannisplatz
Stephanstr. 6, 04103 Leipzig, phone: 0341/97790, location: 500 m zum Stadtzentrum, 4 km to INC (10 minutes by car)
Ramada-Treff Hotel Leipzig
Schongauer Str. 39, 04329 Leipzig, phone: 0341/2540, location: 2 km to Autobahn A14, 4 km to INC (5 Minutes by car), 9 km to city centre
Hotel Adagio
Seeburgstr. 96, 04103 Leipzig, phone: 0341/216690, location: 500 m to city centre, 4 km to INC (10 Minuten mit PKW)
City Partner Suite Hotel
Permoserstr. 50, 04328 Leipzig, phone: 0341/25890, location: 4 km to Autobahn A14, 500 m to INC, 7 km to city centre