Project A03 – Characterizing the molecular interactions of Y1 and Y2 receptors with NPY
In the proposed project, distance constraints of complexes between Y1 and Y2 receptors and NPY will be derived by NMR, using the paramagnetic relaxation enhancement (PRE) effect, as well as (photo-) chemical cross-linking combined with mass spectrometry (MS). The experimentally obtained constraints will be used to refine computational models of the NPY in the Y1 and the Y2 binding pocket. The ultimate goal is to characterize the binding modes and dynamics of peptides in interaction with Y receptors, which is a prerequisite for the development of highly selective drugs.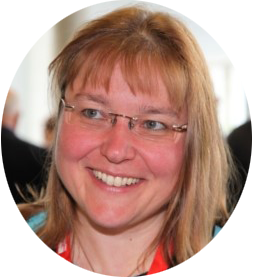 Prof. Dr. Andrea Sinz (Project Leader)
Martin Luther University Halle-Wittenberg
Faculty of Natural Sciences I, Institute of Pharmacy
Kurt-Mothes-Str. 3a, D-06108 Halle/Saale

Phone +49 345 55 25170
E-Mail
Web http://agsinz.pharmazie.uni-halle.de/
Bruker Avance III 600 MHz NMR 

spectrometer

Bruker Avance I 700 MHz NMR 

spectrometer

New Avance Neo Console for 700 

MHz NMR spectrometer and 2 

solids probes


LTQ-Orbitrap XLMassspectrometer incl.

 ESI and 

Nano-ESI

Orbitrap Fusion Tribrid-

Massspectrometer 

HPLC-System (Agilent 1200)
Nano-HPLC-System (Ultimate 

3000, Dionex)

Orbitrap Q-Exactive Plus-

Massspectrometer 

High Mass Q-TOF 2-

Massspectrometer (MSVision)

MALDI-TOF/TOF – 

Massspectrometer (Ultraflex III, 

Bruker Daltonik)

FPLC-Systems (ÄKTA Prime, 

ÄKTA FPLC and ÄKTA Purev
Krug U, Gloge A, Schmidt P, Becker-Baldus J, Bernhard F, Kaiser A, Montag C, Gauglitz M, Vishnivetskiy SA, Gurevich VV, Beck-Sickinger AG, Glaubitz C, Huster D. The Conformational Equilibrium of the Neuropeptide Y2 Receptor in Bilayer Membranes. Angew Chem Int Ed Engl. 2020 Aug 13. doi: 10.1002/anie.202006075. Epub ahead of print. PMID: 32790043
Laugwitz JM, Haeri HH, Kaiser A, Krug U, Hinderberger D, Beck-Sickinger AG, Schmidt P. Probing the Y2 Receptor on Transmembrane, Intra- and Extra-Cellular Sites for EPR Measurements. molecules. Accepted: 09092020.
Piotrowski C, Moretti R, Ihling CH, Haedicke A, Liepold T, Lipstein N, Meiler J, Jahn O, Sinz A. Delineating the Molecular Basis of the Calmodulin‒bMunc13-2 Interaction by Cross-Linking/Mass Spectrometry-Evidence for a Novel CaM Binding Motif in bMunc13-2. Cells. 2020 Jan 7;9(1):136. doi: 10.3390/cells9010136 PMID: 31936129 PMCID: PMC7017353. 
Vogel A, Bosse M, Gauglitz M, Wistuba S, Schmidt P, Kaiser A, Gurevich VV, Beck-Sickinger AG, Hildebrand PW, Huster D. The Dynamics of the Neuropeptide Y Receptor Type 1 Investigated by Solid-State NMR and Molecular Dynamics Simulation. Molecules. 2020 Nov 24;25(23):5489. doi: 10.3390/molecules25235489. PMID: 33255213; PMCID: PMC7727705.
Yang Z, Han S, Keller M, Kaiser A, Bender BJ, Bosse M, Burkert K, Kögler LM, Wifling D, Bernhardt G, Plank N, Littmann T, Schmidt P, Yi C, Li B, Ye S, Zhang R, Xu B, Larhammar D, Stevens RC, Huster D, Meiler J, Zhao Q, Beck-Sickinger AG, Buschauer A, Wu B. Structural basis of ligand binding modes at the neuropeptide Y Y1 receptor. Nature. 2018; 556:520-4.
Iacobucci C, Götze M, Ihling CH, Arl C, Hage C, Schäfer M, Schmidt R, Piotrowski C, Sinz A. A Cross-linking/Mass Spectrometry Workflow Based on MS-Cleavable Cross-Linkers and the MeroX Software for Studying Protein Structures and Protein-Protein Interactions. Nature Protocols. 2018; 13:2864-89.
Bräuning B, Bertosin E, Praetorius F, Ihling C, Schatt A, Adler A, Richter C, Sinz A, Dietz H, Grolla M. Structure and mechanism of the two-component α-helical cytolytic toxin YaxAB. Nature Commun. 2018; 4:1806.
Schmidt P, Bender BJ, Kaiser A, Gulati K, Scheidt HA, Hamm HE, Meiler J, Beck-Sickinger AG, Huster D. Improved in vitro Folding of the Y2 G Protein-Coupled Receptor into Bicelles. Front Mol Biosci. 2017; 4:100.
Hage C, Iacobucci C, Rehkamp A, Arlt C, Sinz A. The First Zero-Length Mass Spectrometry-Cleavable Cross-Linker for Protein Structure Analysis. Angew Chem Int Ed Engl. 2017; 56:14551-5.
Arlt C, Flegler V, Ihling CH, Schäfer M, Thondorf I, Sinz A. An Integrated Mass Spectrometry Based Approach to Probe the Structure of the Full-Length Wild-Type Tetrameric p53 Tumor Suppressor. Angew Chem Int Ed Engl. 2017; 56:275-9.
Kaiser A, Mueller P, Zellmann T, Scheidt HA, Thomas L, Bosse M, Meier R, Meiler J, Huster D, Beck-Sickinger AG, Schmidt P. Unwinding of the C-Terminal Residues of Neuropeptide Y is critical for Y2 Receptor Binding and Activation. Angew Chemie Int Ed. 2015; 54:7446-9.
Schmidt P, Thomas L, Mueller P, Scheidt HA, Huster D. The G Protein-Coupled Neuropeptide Y Receptor Type 2 is Highly Dynamic in Lipid Membranes as Revealed by Solid-State NMR Spectroscopy. Chemistry Eur J. 2014; 20:4986-92.
Hofmann S, Frank R, Hey-Hawkins E, Beck-Sickinger AG, Schmidt P. Manipulating Y Receptor Selectivity of Short Neuropeptide Y Analogs by Introducing Carbaboranes. Neuropeptides. 2013; 47:59-66.
Kölbel K, Ihling, CH, Sinz A. Analysis of Peptide Secondary Structures by Photoactivatable Amino Acid Analogues. Angew Chem Int Ed Engl. 2012; 51:12602-5.