Vanderbilt University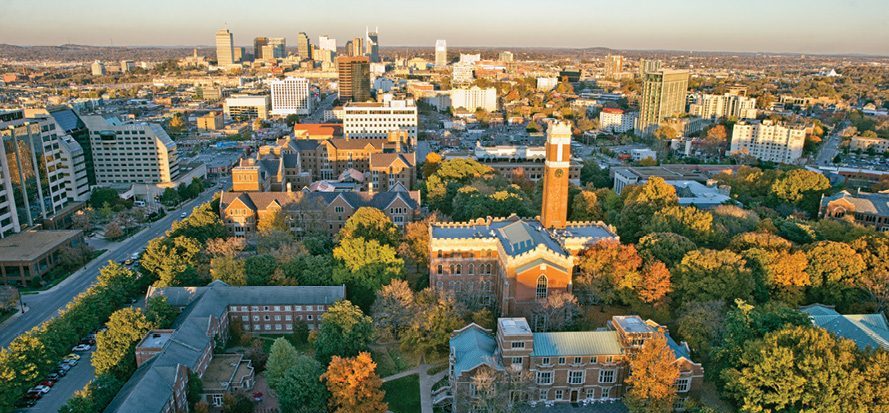 Founded in 1873 with a $1 million gift from "Commodore" Cornelius Vanderbilt to establish an institution that would "contribute to strengthening the ties that should exist between all sections of our common country," Vanderbilt today is a globally renowned research university. Its 10 schools reside on a parklike campus set in the urban heart of Nashville, Tennessee, providing a collaborative atmosphere of discovery that drives positive change in the world.
Top-ranked in both academics and financial aid, Vanderbilt University offers an immersive living–learning undergraduate experience, with programs in the liberal arts and sciences, engineering, music, education and human development. The university also is home to nationally and internationally recognized graduate schools of law, education, business, medicine, nursing and divinity, and offers robust graduate-degree programs across a range of disciplines.
Vanderbilt is committed to inclusive excellence, drawing the world's brightest students, faculty and distinguished visitors from across all cultural and socioeconomic backgrounds. The university's prominent alumni base includes Nobel Prize winners, members of Congress, governors, ambassadors, judges, admirals, CEOs, university presidents, physicians and attorneys, as well as professional sports figures playing in the NFL, NBA, Major League Baseball, the PGA and LPGA.
Vanderbilt, an independent, privately supported university, and the separate, nonprofit Vanderbilt University Medical Center share a respected name and enjoy close collaboration through education and research. Together, the number of people employed by these two organizations exceeds that of the largest private employer in the Middle Tennessee region.
Quick Facts
Today, Vanderbilt University is a private research university of about 6,800 undergraduates and 5,900 graduate and professional students. The university comprises 10 schools, a distinguished medical center, a public policy center and The Freedom Forum First Amendment Center. Vanderbilt offers undergraduate programs in the liberal arts and sciences, engineering, music, education and human development as well as a full range of graduate and professional degrees. The university is consistently ranked as one of the nation's top 20 universities by publications such as U.S. News & World Report, with several programs and disciplines ranking in the top 10.
The combination of cutting-edge research, liberal arts and a distinguished medical center creates an invigorating atmosphere where students tailor their education to meet their goals and researchers collaborate to solve complex questions affecting our health, culture and society.
An independent, privately supported university employing more than 3,100 full-time faculty and a staff of more than 23,000, Vanderbilt is the largest private employer in Middle Tennessee and the second largest private employer in the state.
is an independent, nonprofit corporation that shares Vanderbilt University's respected name and collaborates closely with the university through education and research. With the only Level 1 (highest level) trauma center in Middle Tennessee and the region's only Level 4 (highest level) neonatal intensive care unit, Vanderbilt University Medical Center includes Vanderbilt University Hospital, Monroe Carell Jr. Children's Hospital at Vanderbilt, Vanderbilt Psychiatric Hospital, Vanderbilt Stallworth Rehabilitation Hospital, The Vanderbilt Clinic, and Vanderbilt Health One Hundred Oaks. VUMC also helps coordinate care through the Vanderbilt Health Affiliated Network of more than 6,100 clinicians, 13 health systems, and 110 urgent-care clinics throughout Tennessee and surrounding states, creating the largest health care network in the region.