Der SFB Transregio 67 vergibt jährlich drei Preise für herausragende wissenschaftliche Publikationen seiner Doktoranden/Doktorandinnen.
Die auszuzeichnenden Publikationen müssen im Zeitraum Oktober des Vorjahres – September des laufenden Jahres erschienen sein.
Erstautor/in muss ein/e Doktorand/in des Transregio 67 sein.
Der Vorstand des Transregio (inkl. dem Doktorandenvertreter) wird über die Vergabe der drei Preise entscheiden.
Jeder der drei Paper Prize ist mit einem Geldwert dotiert.
1. Platz 750 €
2. Platz 500 €
3. Platz 250 €
Die Preise werden beim jährlichen Herbst-Retreat des TRR 67 verliehen.
Bitte reichen Sie die Preisvorschläge mit einer elektronischen Kopie der Publikation (im pdf-Format), sowie eine Stellungnahme des Betreuers/derBetreuerin bei Prof. Jan-Christoph Simon oder Birgit Kanzler bis zum 30 August 2021 ein.
Nachfolgend finden Sie die Doktoranden des TRR67  welche für ihre herausragenden Publikationen mit dem Transregio 67 Paper Prize ausgezeichnet wurden. Der Auswahlausschuss, honorierte damit, den besonderen Wert der Veröffentlichung für das Gesamtprojekt sowie ihrer internationalen Sichtbarkeit.
2020
Sebastian Kühn (A10)
Kühn S, Sievers J, Stoppa A, Träber N, Zimmermann R, Welzel P B, Werner C. Cell-Instructive Multiphasic Gel-in-Gel Materials. Advanced functional Materials, 2020, IF: 18,808. https://doi.org/10.1002/adfm.201908857.

Jan Krieghoff (A1)
Krieghoff J, Rost J, Kohn-Polster C, Müller B, Koenig A, Flath T, Schulz-Siegmund M, Schulze FP, Hacker M. Extrusion-Printing of Multi-Channeled Two-Component Hydrogel Constructs from Gelatinous Peptides and Anhydride-Containing Oligomers. Biomedicines 2021, 9, 370, doi:10.3390/biomedicines9040370.

Sebastian Keil (B11)
Keil S, Gupta M, Brand M, Knopf F. Heparan sulfate proteoglycan expression in the regenerating zebrafish fin. Developmental Dynamics 1-13, 2021, doi.org/10.1002/dvdy.321.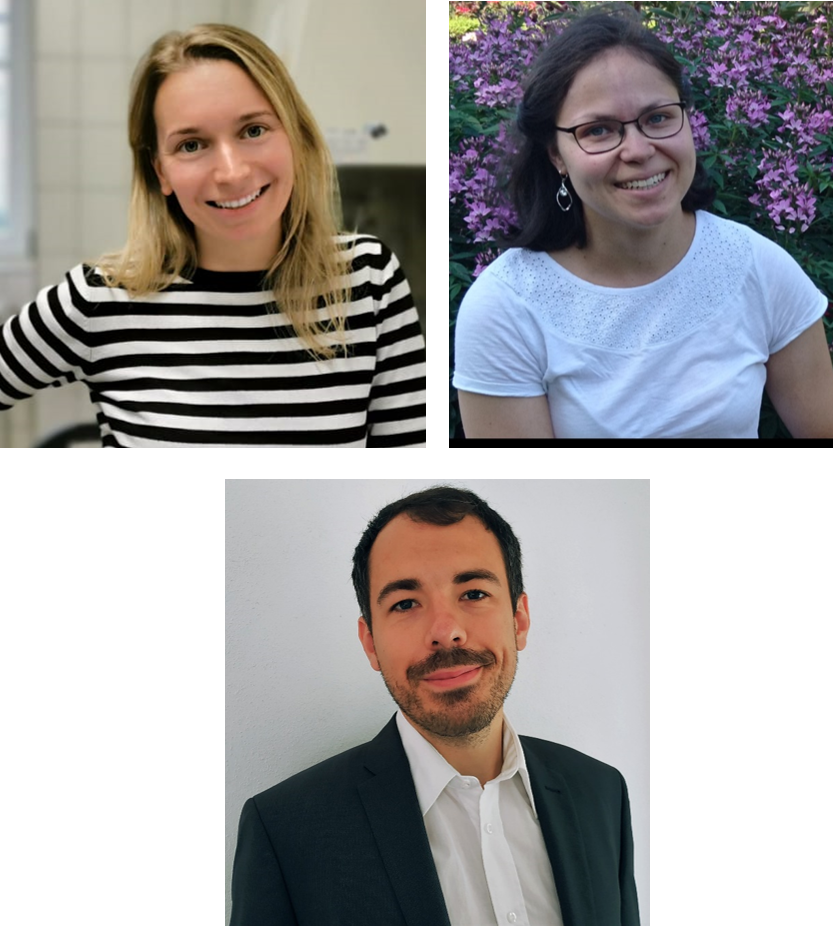 2020
Franziska Ullm (B10) and Claudia Damaris Müller (B1)
Vogel S, Ullm F, Müller CD, Pompe T, Hempel U. Remodeling of Three-Dimensional Collagen I Matrices by Human Bone Marrow Stromal Cells during Osteogenic. ACS Appl. Bio Mater. 2020, 3, 10, 6967–6978. https://doi.org/10.1021/acsabm.0c00856.

Mathis Gronbach (A1)
Gronbach M, Mitrach F, Lidzba V, Müller B, Möller S, Rother S, Salbach-Hirsch J, Hofbauer LC, Schnabelrauch M, Hintze V, Hacker MC, Schulz-Siegmund M. Scavenging of Dickkopf-1 by macromer-based biomaterials covalently decorated with sulfated hyalu-ronan displays pro-osteogenic effects. Acta Biomaterialia, Volume 114 (2020) 76-89. https://doi.org/10.1016/j.actbio.2020.07.017.


2019
Joanna Freyse (geb. Blaszkiewicz) (A8) and Tom Wippold (B4)
Thönes S, Rother S, Wippold T, Blaszkiewicz J, Balamurugan K, Moeller S, Ruiz-Gómez G, Schnabelrauch M, Scharnweber D, Saalbach A, Rademann J, Pisabarro MT, Hintze V, Anderegg U. Hyaluronan/collagen hydrogels containing sulfated hyaluronan improve wound healing by sustained release of heparin-binding EGF-like growth factor. Acta Biomater. 2019 Mar 1;86:135-147.

Franziska Clauder (A04)
Clauder F, Czerniak AS, Friebe S, Mayr SG, Scheinert D, Beck-Sickinger AG. Endothelialization of Titanium Surfaces by Bioinspired Cell Adhesion Peptide Coatings. Bioconjug Chem. 2019 Oct 16;30(10):2664-2674.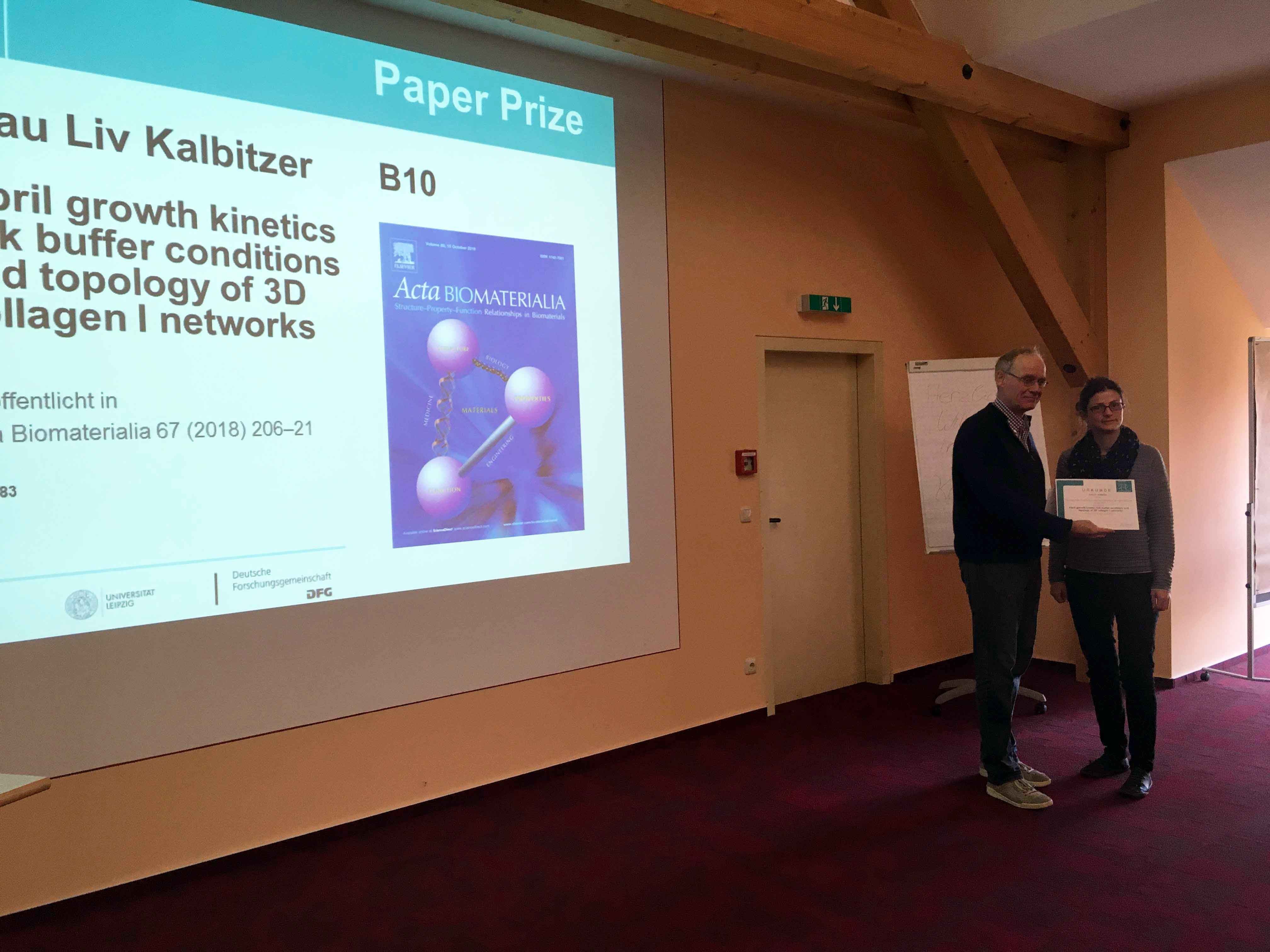 2018
Liv Kalbitzer (B10)
Kalbitzer L, Pompe T. Fibril growth kinetics link buffer conditions and topology of 3D collagen I networks. Acta Biomater. 2018; 67:206-214.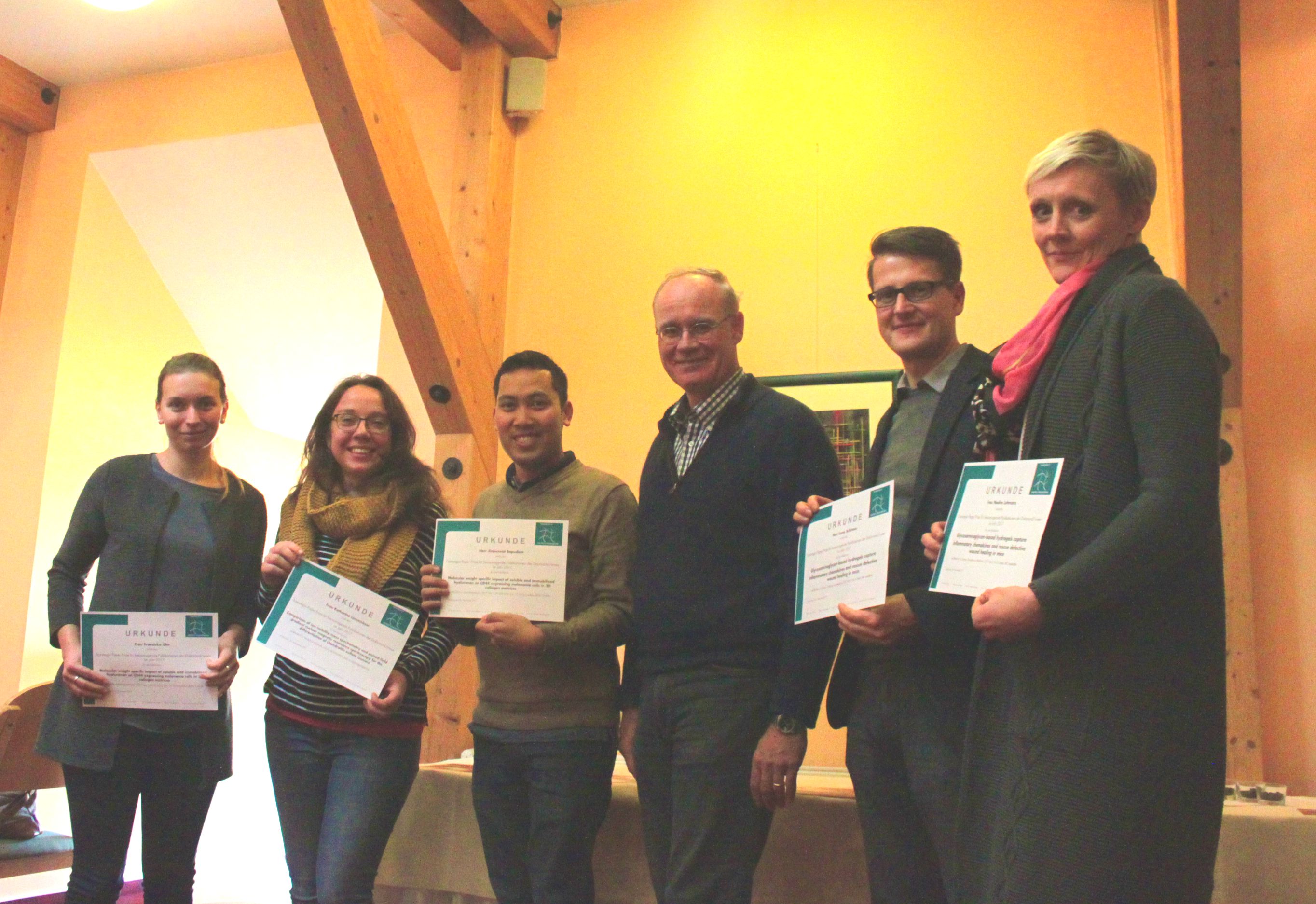 2017
Nadine Lohmann und Lucas Schirmer (B03, A10)
Lohmann N, Schirmer L, Atallah P, Wandel E, Ferrer RA, Werner C, Simon JC, Franz S*, Freudenberg U*. Glycosaminoglycan-based hydrogels capture inflammatory chemokines and rescue wound healing deficiency. Sci Transl Med. 2017;9(386).

Jiranuwat Sapudom und Franziska Ullm (B10)
Sapudom J, Ullm F, Martin S, Kalbitzer L, Naab J, Möller S, Schnabelrauch M, Anderegg U, Schmidt S, Pompe T. Molecular weight specific impact of soluble and immobilized hyaluronan on CD44 expressing melanoma cells in 3D collagen matrices. Acta Biomater. 2017;50:259-70.

Katharina Lemmnitzer (A8)
Lemmnitzer K, Riemer T, Groessl M, Süß R, Knochenmuss R, Schiller J. Comparison of ion mobility-mass spectrometry and pulsed-field gradient nuclear magnetic resonance spectroscopy for the differentiation of chondroitin sulfate isomers. Anal Methods. 2016;8:8483-91.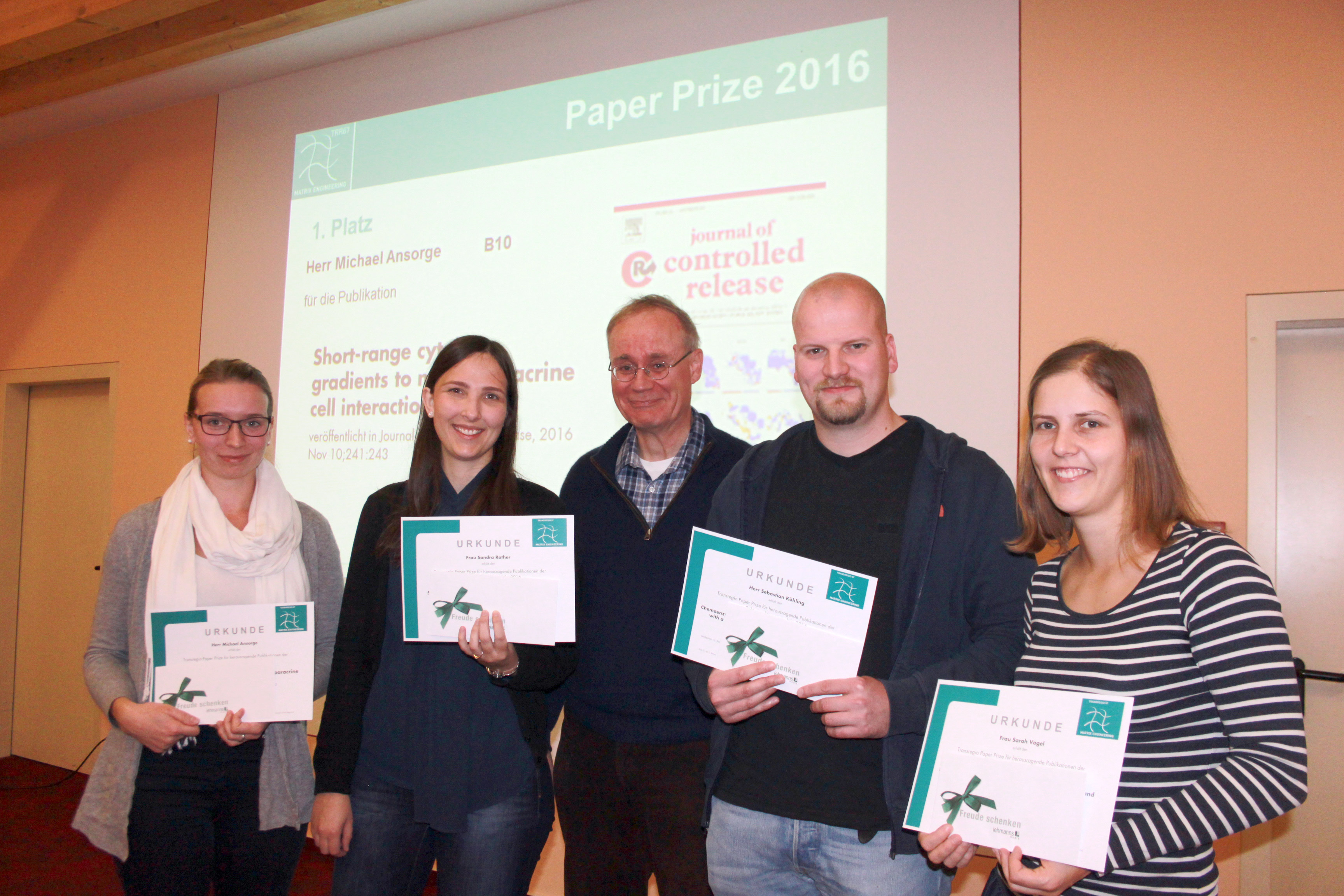 2016
Michael Ansorge (B10)
Ansorge M, Rastig N, Steinborn R, König T, Baumann L, Möller S, Schnabelrauch M, Cross M, Werner C, Beck-Sickinger AG, Pompe T. Short-range cytokine gradients to mimic paracrine cell interactions in vitro. Journal of Controlled Release, 2016 Nov 10;241:243.

Sandra Rother (A3)
Rother S, Samsonov SA, Hofmann T, Blaszkiewicz J, Köhling S, Moeller S, Schnabelrauch M, Rademann J, Kalkhof S, von Bergen M, Pisabarro MT, Scharnweber D, Hintze V. Structural and functional insights into the interaction of sulfated glycosaminoglycans with tissue inhibitor of metalloproteinase-3 – A possible regulatory role on extracellular matrix homeostasis. Acta Biomaterialia, 2016 Nov;45:143-154.

Sarah Vogel (B1)
Vogel S, Arnoldini S, Möller S, Schnabelrauch M, Hempel U. Sulfated hyaluronan alters fibronectin matrix assembly and promotes osteogenic differentiation of human bone marrow stromal cells. Scientific Reports Chemistry. 2016. Nov 3;6:36418.

Sebastian Köhling (A8)
Köhling S, Künze G, Lemmnitzer K, Bermudez M, Wolber G, Schiller J, Huster D, Rademann J. Chemoenzymatic synthesis of nonasulfated tetrahyaluronan with a paramagnetic tag for studying its complex with interleukin-10. Chemistry. 2016 Apr 11;22(16):5563-74.
2015
Sandra Rother (A3)
Rother S, Salbach-Hirsch J, Moeller S, Seemann T, Schnabelrauch M, Hofbauer LC, Hintze V, Scharnweber D. Bioinspired Collagen/Glycosaminoglycan-Based Cellular Microenvironments for Tuning Osteoclastogenesis. CS Appl Mater Interfaces. 2015 Oct 28;7(42):23787-97. doi: 10.1021/acsami.5b08419. Epub 2015 Oct 19.

Tommy Hofmann (Z4)
Hofmann T, Samsonov SA, Pichert A, Lemmnitzer K, Schiller J, Huster D, Pisabarro MT, von Bergen M, Kalkhof S. Structural analysis of the interleukin-8/glycosaminoglycan interactions by amide hydrogen/deuterium exchange mass spectrometry. Methods. 2015 Feb 26. 89:45-53. doi: 10.1016/j.ymeth.2015.02.011.

Rudi Loth (geb. Hötzel) (A1)
Loth R, Loth T, Schwabe K, Bernhardt R, Schulz-Siegmund M, Hacker MC. Highly adjustable biomaterial networks from three-armed biodegradable macromers. Acta Biomater. 2015; 26: 82-96.
2014
Der Paper Prize 2014 wurde für folgende Publikationen vergeben an:

Georg Künze (A6) und Jan-Philip Gehrcke (A7)
Künze G*, Gehrcke JP*, Pisabarro MT, Huster D. NMR characterization of the binding properties and conformation of glycosaminoglycans interacting with interleukin-10. Glycobiology. 2014 Nov;24(11):1036-49. doi: 10.1093/glycob/cwu069. Epub 2014 Jul 6. (*geteilte Erstautorenschaft) Tina Loth (A1)
Loth T, Hötzel R, Kascholke C, Anderegg U, Schulz-Siegmund M, Hacker MC. Gelatin-based biomaterial engineering with anhydride-containing oligomeric cross-linkers. Biomacromolecules. 2014 Jun 9;15(6):2104-18. doi: 10.1021/bm500241y. Epub 2014 May 21.
2013
Der Paper Prize 2013 wurde für folgende Publikationen vergeben an

Anja Penk (A6)
Penk A, Förster Y, Scheidt HA, Nimptsch A, Hacker MC, Schulz-Siegmund M, Ahnert P, Schiller J, Rammelt S, Huster D. The pore size of PLGA bone implants determines the de novo formation of bone tissue in tibial head defects in rats. Magn Reson Med. 2012. doi: 10.1002/mrm.24541. [Epub ahead of print]

Marianne Büttner (B1)
Büttner M, Möller S, Keller M, Huster D, Schiller J, Schnabelrauch M, Dieter P, Hempel U. Over-sulfated chondroitin sulfate derivatives induce osteogenic differentiation of hMSC independent of BMP-2 and TGF-?1 signalling. J Cell Physiol. 2013;02;228(2):330-40. doi: 10.1002/jcp.24135

Juliane Salbach-Hirsch (B2) Salbach-Hirsch J, Kraemer J, Rauner M, Samsonov SA, Pisabarro MT, Moeller S, Schnabelrauch M, Scharnweber D, Hofbauer LC, Hintze V. The promotion of osteoclastogenesis by sulfated hyaluronan through interference with osteoprotegerin and receptor activator of NF-?B ligand/osteoprotegerin complex formation. Biomaterials. 2013 Oct;34(31):7653-61. doi: 10.1016/j.biomaterials.2013.06.053. Epub 2013 Jul 17.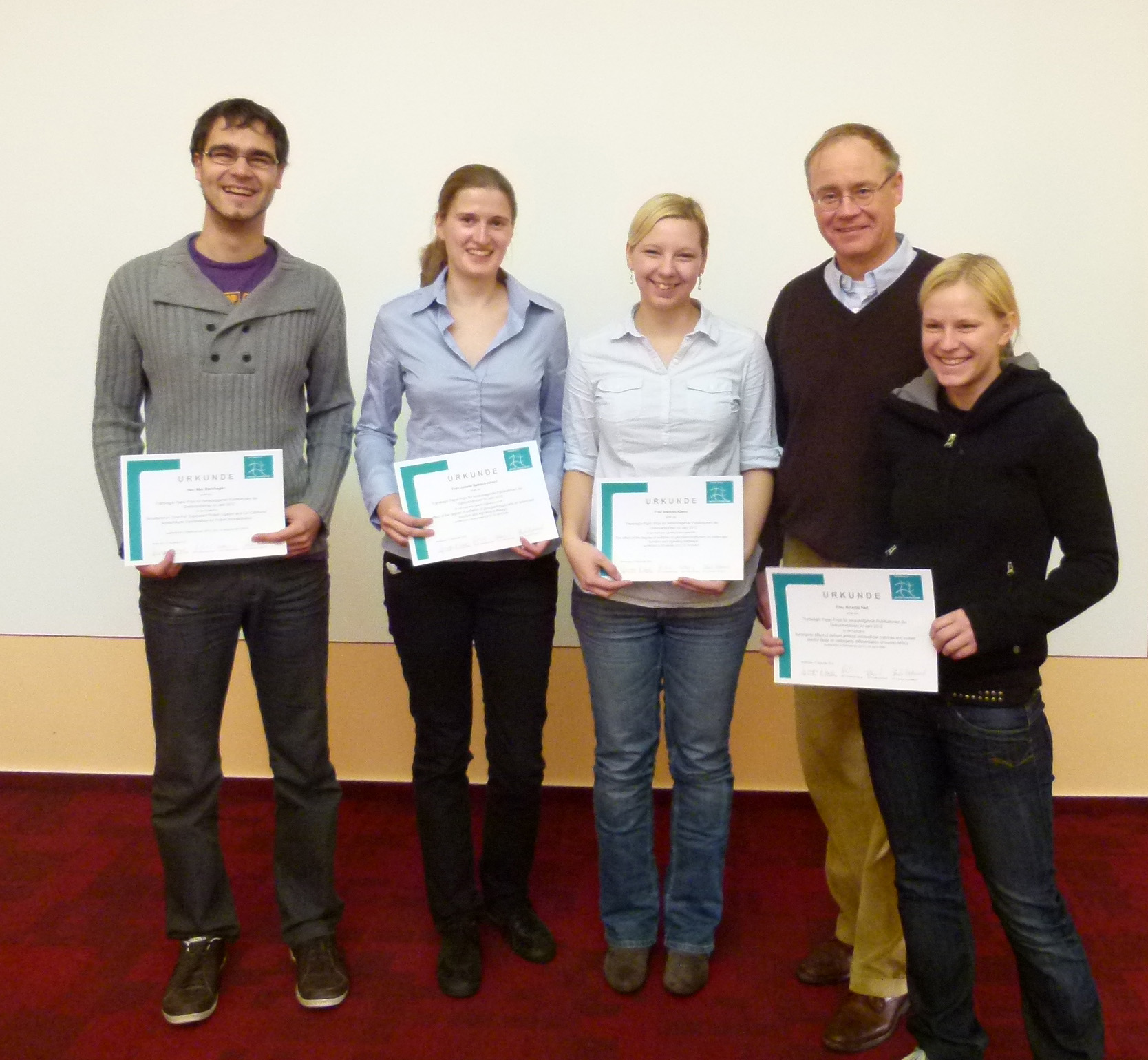 2012
Der Paper Prize 2012 wurde für folgende Publikationen vergeben an:

Ricarda Hess (A3)
Hess R, Jeschnke A, Neubert H, Hintze V, Moeller S, Schnabelrauch M, Wiesmann HP, Hart DA, Scharnweber D. Synergistic effect of defined artificial extracellular matrices and pulsed electric fields on osteogenic differentiation of human MSCs. Biomaterials. 2012;33:8975-85.

Max Steinhagen (A4)
Steinhagen M, Holland-Nell K, Meldal M, Beck-Sickinger AG. Simultaneous "one pot" expressed protein ligation and CuI-catalyzed azide/alkyne cycloaddition for protein immobilization. ChemBioChem. 2011;12:2426-30.

Juliane Salbach-Hirsch (B2) und Stefanie Kliemt (Z4)
Salbach J*, Kliemt S*, Rauner M, Rachner TD, Goettsch C, Kalkhof S, von Bergen M, Möller S, Schnabelrauch M, Hintze V, Scharnweber D, Hofbauer LC. The effect of the degree of sulfation of glycosaminoglycans on osteoclast function and signaling pathways. Biomaterials. 2012;33:8418-29. (*geteilte Erstautorschaft)
2011
Anja van der Smissen (Teilprojekt B4) für die Publikation
van der Smissen A, Hintze V, Scharnweber D, Moeller S, Schnabelrauch M, Majok A, Simon JC, Anderegg U. Growth promoting substrates for human dermal fibroblasts provided by artifical extracellular matrices composed of collagen I and sulfated glycosaminglycans. Biomaterials. 2011;32:8938-46.
2011
Annelie Pichert (Teilprojekt A6) für die Publikation
Pichert A, Samsonov SA, Theisgen S, Thomas L, Baumann L, Schiller J, Beck-Sickinger AG, Huster D, Pisabarro MT. Characterization of the Interaction of Interleukin-8 with Hyaluronan, Chondroitin Sulfate, Dermatan Sulfate, and Their Sulfated Derivatives by Spectroscopy and Molecular Modelling. Glycobiology. 2011 Aug 26.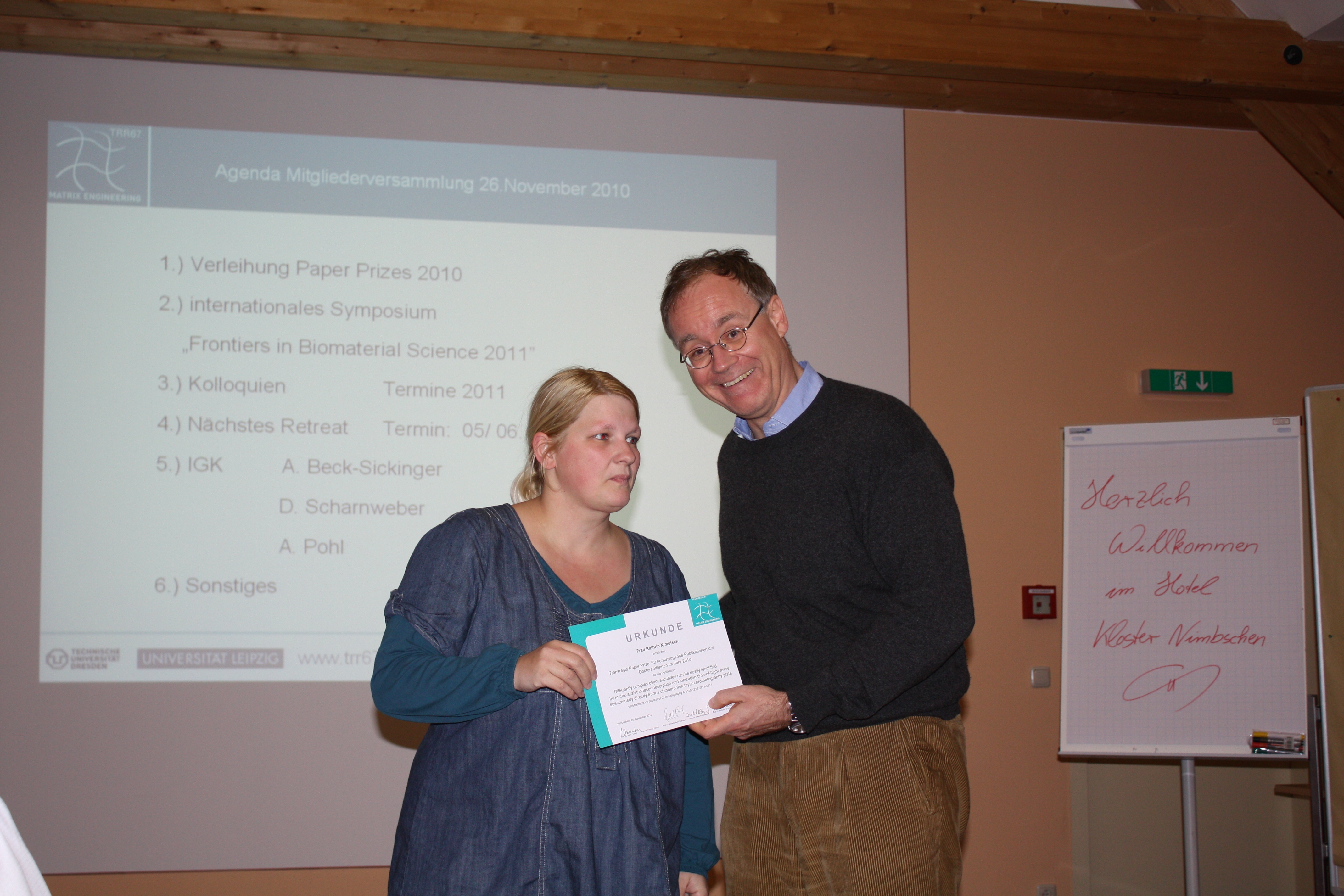 2010
Kathrin Nimptsch (Teilprojekt A2)
Nimptsch K, Süss R, Riemer T, Nimptsch A, Schnabelrauch M, Schiller J. Differently complex oligosaccarides can be easily identified by matrix-assisted laser desorption and ionization time-of-flight mass spectrometry directly from a standard thin-layer chromatography plate. J Chromatogr A. 2010;1217:3711-15.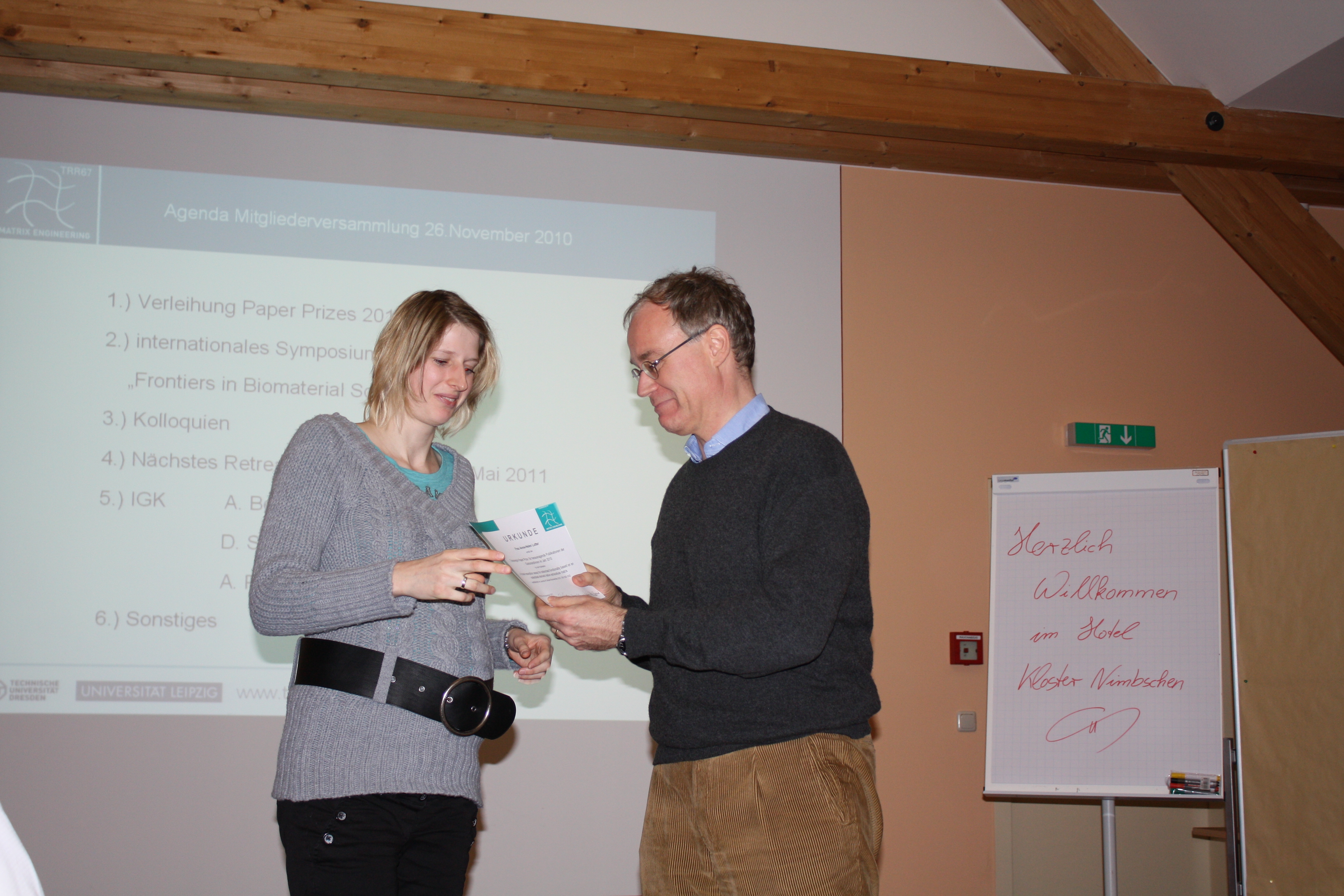 2010
Anne-Helen Lutter (Teilprojekt B1)
Lutter AH, Hempel U, Wolf-Brandstetter C, Garbe AI, Goettsch C, Hofbauer LC, Jessberger R, Dieter P. A novel resorption assay for osteoclast functionality based on an osteoblast-derived native extracellular matrix. J Cell Biochem. 2010;109:1025-32.