A1 – Three-dimensional ECM-Polymer hybrid matrices for in vitro und in vivo characterisation of artificial ECM-compounds (aECM)
In project A1 macromonomers will be synthesised as building blocks for the fabrication of biodegradable, cross-linked and chemically reactive carrier systems. These matrices will be modified with artificial extracellular matrix components (aECM). To this end, we propose to generate and characterise several biodegradable macromonomers with different hydrophilicity, biodegradability and chemical reactivity.

Cross-linked 2- and 3-dimensional (2-D and 3-D) polymer carrier systems will be generated from macromonomer mixtures. Through adaptation of the macromonomer composition, biodegradability, mechanic stability, reactive group density, and swelling capacity of the polymer matrices can be controlled. In addition to these physico-chemical characteristic, critical parameters such as pore size, pore structure, and porosity can be controlled during the manufacturing process of macroporous 3-D carriers (scaffolds). A series of 3-D scaffolds with varying structural and chemical properties will be fabricated and tested for scaffold mechanics, biocompatibility and biodegradability. Based on these experiments, a set of 3-D matrices will be identified which appear most suitable for the in vitro and in vivo wound healing models that will be used by our Transregio partners.

In the next phase, the 3-D scaffolds will be chemically modified with promising aECM molecules identified and provided by partner projects. The resulting hybrid systems will then be characterised physico-chemically and in cell culture tests with a special focus on biocompatibility and interactions of the material with cell lines. For promising hybrid systems, the specific interactions with growth factors relevant for wound healing (e.g., TGF-ß1, BMP-2) will be investigated in 2-D and 3-D experiments.
Prof. Dr. rer.nat. Michaela Schulz-Siegmund
Professorship of Pharmaceutical Technology
Faculty of Medicine of Leipzig University
Institute for Pharmacy
Eilenburger Straße 15 A, 04317 Leipzig
Phone: +49 (0)341 97-36600
E-Mail: schulz@rz.uni-leipzig.de
Web: pharmazie.medizin.uni-leipzig.de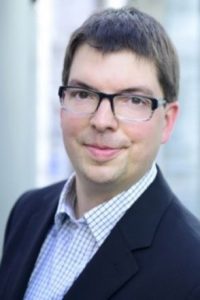 Dr. rer.nat. habil. Michael Hacker
Scientific Assistant at the Chair of Pharmaceutical Technology
Faculty of Medicine of Leipzig University
Institute for Pharmacy
Eilenburger Straße 15 A, 04317 Leipzig
Phone: +49 (0)341 97-36602
E-Mail: mhacker@uni-leipzig.de
Web: pharmazie.medizin.uni-leipzig.de