Poster Awards of the SFB1423
The SFB1423 awards six prizes for outstanding scientific and creative poster presentations of its doctoral students. Each of the six Poster Awards is endowed with a monetary value of 100 EUR. The prizes will be awarded at the retreats.
Six Poster Awards in two categories: four in Scientific Novelty and two in Creative Design
Each presenting PhD-student of the winning posters will be awarded,
due a public voting during the retreats.
Below you will find the winners who were awarded the SFB1423 Poster Awards for their outstanding poster presentation. The selection committee honoured the special value of the research outcome for the overall project as well as its visibility.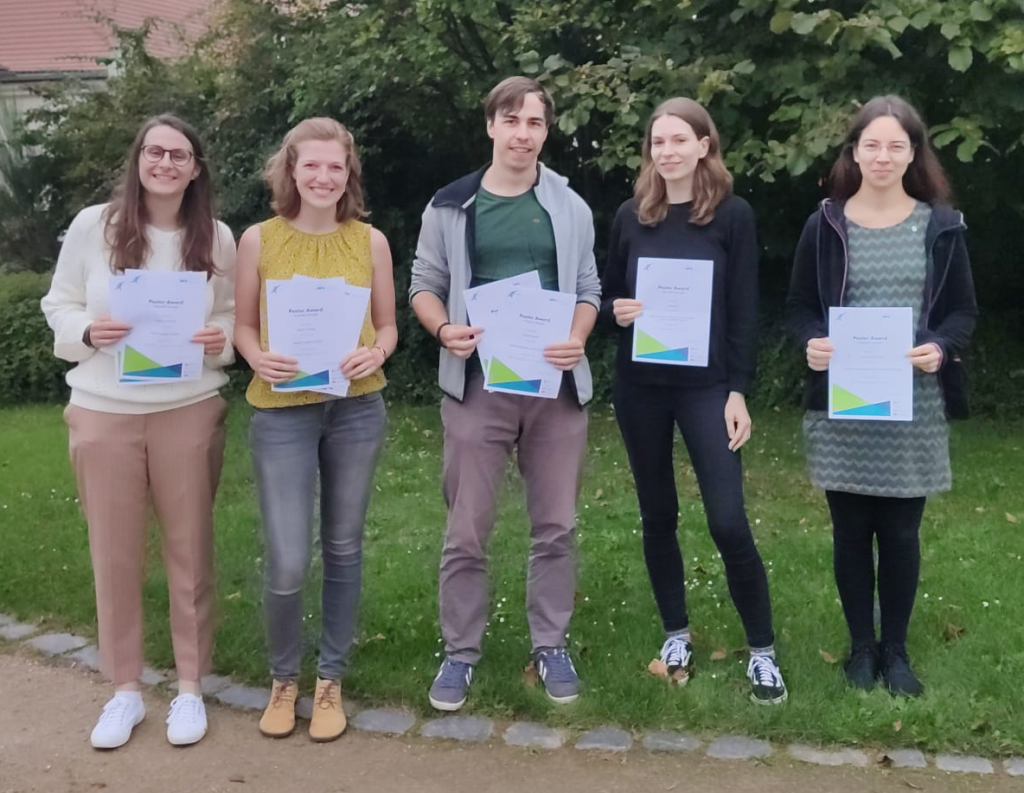 Franziska Reinhardt (C01)
Studying GPCR Sequences with Computational Method
Florian Seufert (C01)
QM/MM Investigation of the GPS-cleavage mechanism
Lisa Martin (C05)
Modulation of GPCR signaling by POPDC proteins, a novel class of cAMP effectors
Chiara De Faveri, Romy Thomas (C05)
Allosteric coupling in GPCRs
Florian Seufert (C01)
QM/MM Investigation of the GPS-cleavage mechanism

Chiara De Faveri, Romy Thomas (C05)
Allosteric coupling in GPCRs

Nicolas Heyder, David Speck (A01)
Structures of active agonist bound Melanocortin-4 receptor- Gs complexes

Amal Hassan, Michal Szczepek (A05)
Towards the 3D-structure of adhesion GPCR

Fabian Liessmann (A07)
Ultra-Large Library Screening Based on the First Full-Length Homology Model of ADGRG5

Corinna Schüss, Victoria Behr (B01)
Binding Sites of Y4 Receptor Selective Ligands

Marc Bathe-Peters, Philipp Gmach (C03)
Visualization of β-adrenergic receptors dynamics and differential localization in cardiomyocytes
Nicolas Heyder, David Speck (A01)
Structures of active agonist bound Melanocortin-4 receptor- Gs complexes
Amal Hassan, Michal Szczepek (A05)
Towards the 3D-structure of adhesion GPCR

Corinna Schüss, Victoria Behr (B01)
Binding Sites of Y4 Receptor Selective Ligands