Publications of the SFB1423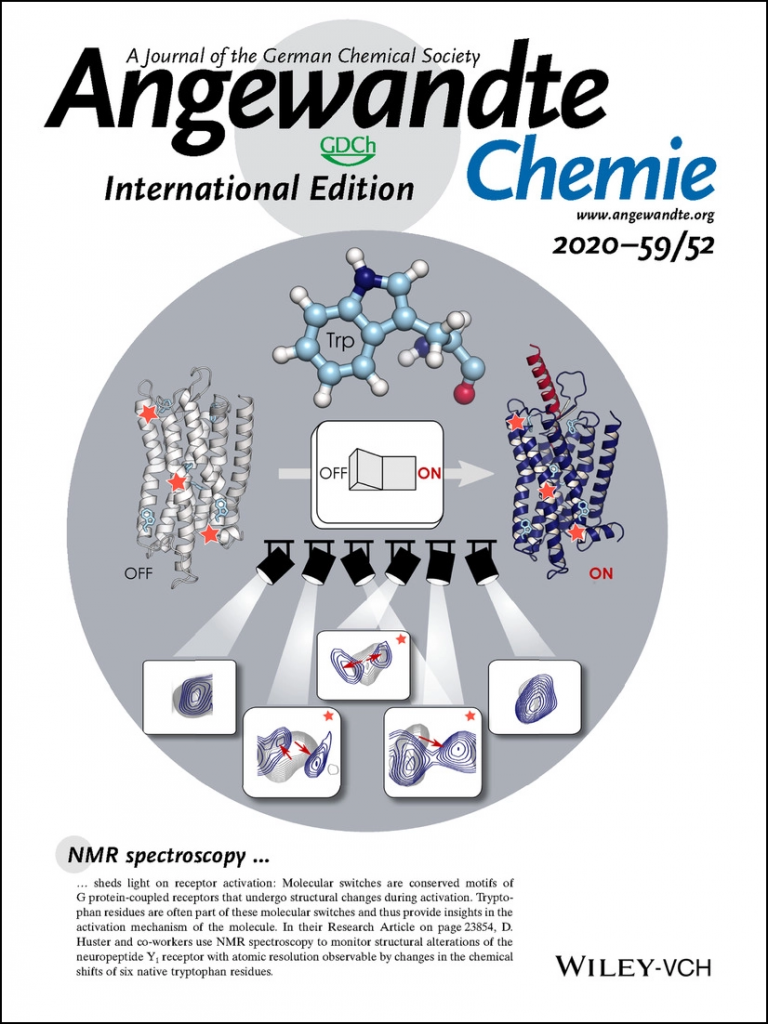 Numerous publications have been produced within the framework of the SFB1423, which you will find below. The bibliographic information is linked to Pubmed. 
Project-relevant publications within the SFB1423 has to be labled with the following text module: "[author/s] acknowledge funding by the Deutsche Forschungsgemeinschaft (DFG, German Research Foundation) through SFB1423, project number 421152132, subproject [number/s]."
Annibale P, Lohse MJ. Spatial heterogeneity in molecular brightness. Nat Methods. 2020 Mar;17(3):273-275. doi: 10.1038/s41592-020-0732-0. Epub 2020 Feb 10. PMID: 32042187.
Bathe-Peters M, Gmach P, Annibale P, Lohse MJ. Linescan microscopy data to extract diffusion coefficient of a fluorescent species using a commercial confocal microscope.  Data Brief. 2020 Jan 2;29:105063. doi: 10.1016/j.dib.2019.105063. eCollection 2020 Apr.
Bock A, Annibale P, Konrad C, Hannawacker A, Anton SE, Maiellaro I, Zabel U, Sivaramakrishnan S, Falcke M, Lohse MJ. Optical Mapping of cAMP Signaling at the Nanometer Scale. Cell. 2020 Aug 20:S0092-8674(20)30943-0. doi: 10.1016/j.cell.2020.07.035. Epub ahead of print. PMID: 32846156.
Dannhäuser S, Lux TJ, Hu C, Selcho M, Chen JT, Ehmann N, Sachidanandan D, Stopp S, Pauls D, Pawlak M, Langenhan T, Soba P, Rittner HL, Kittel RJ. Antinociceptive modulation by the adhesion GPCR CIRL promotes mechanosensory signal discrimination. Elife. 2020 Sep 30;9:e56738. doi: 10.7554/eLife.56738 PMID: 32996461; PMCID: PMC7546736.
Heyder N, Kleinau G, Szczepek M, Kwiatkowski D, Speck D, Soletto L, Cerdá-Reverter JM, Krude H, Kühnen P, Biebermann H, Scheerer P. Signal Transduction and Pathogenic Modifications at the Melanocortin-4 Receptor: A Structural Perspective. Front Endocrinol (Lausanne). 2019 Jul 31;10:515. doi: 10.3389/fendo.2019.00515. eCollection 2019. PMID: 31417496
Holze J, Bermudez M, Pfeil EM, Kauk M, Bödefeld T, Irmen M, Matera C, Dallanoce C, De Amici M, Holzgrabe U, König GM, Tränkle C, Wolber G, Schrage R, Mohr K, Hoffmann C, Kostenis E, Bock A. Ligand-Specific Allosteric Coupling Controls G-Protein-Coupled Receptor Signaling. ACS Pharmacol Transl Sci. September 2, 2020 DOI: 10.1021/acsptsci.0c00069
Kleinau G, Heyder NA, Tao YX, Scheerer P. Structural Complexity and Plasticity of Signaling Regulation at the Melanocortin-4 Receptor. Int J Mol Sci. 2020 Aug 10;21(16):5728. doi: 10.3390/ijms21165728. PMID: 32785054
Krug U, Gloge A, Schmidt P, Becker-Baldus J, Bernhard F, Kaiser A, Montag C, Gauglitz M, Vishnivetskiy SA, Gurevich VV, Beck-Sickinger AG, Glaubitz C, Huster D. The Conformational Equilibrium of the Neuropeptide Y2 Receptor in Bilayer Membranes. Angew Chem Int Ed Engl. 2020 Aug 13. doi: 10.1002/anie.202006075. Epub ahead of print. PMID: 32790043 and Inside Cover: The Conformational Equilibrium of the Neuropeptide Y2 Receptor in Bilayer Membranes (Angew. Chem. Int. Ed. 52/2020) https://doi.org/10.1002/anie.202014454.
Laugwitz JM, Haeri HH, Kaiser A, Krug U, Hinderberger D, Beck-Sickinger AG, Schmidt P. Probing the Y2 Receptor on Transmembrane, Intra- and Extra-Cellular Sites for EPR Measurements. molecules. Accepted: 09092020.
Ma X, Hu Y, Batebi H, Heng J, Xu J, Liu X, Niu X, Li H, Hildebrand PW, Jin C, Kobilka BK. Analysis of β2AR-Gs and β2AR-Gi complex formation by NMR spectroscopy. Proc Natl Acad Sci U S A. 2020 Aug 31:202009786. doi: 10.1073/pnas.2009786117. Epub ahead of print. PMID: 32868434.
Mathiasen S, Palmisano T, Perry NA, Stoveken HM, Vizurraga A, McEwen DP, Okashah N, Langenhan T, Inoue A, Lambert NA, Tall GG, Javitch JA. G12/13 is activated by acute tethered agonist exposure in the adhesion GPCR ADGRL3. Nat Chem Biol. 2020 Aug 10. doi: 10.1038/s41589-020-0617-7. Epub ahead of print. Erratum in: Nat Chem Biol. 2020 Aug 17;: PMID: 32778842 [publisher correction: doi: 10.1038/s41589-020-0649-z]
Mayol E, García-Recio A, Tiemann JKS, Hildebrand PW, Guixà-González R, Olivella M, Cordomí A. HomolWat: a web server tool to incorporate 'homologous' water molecules into GPCR structures. Nucleic Acids Res. 2020 Jul 2;48(W1):W54-W59. doi: 10.1093/nar/gkaa440. PMID: 32484557; PMCID: PMC7319549
Paisdzior S, Dimitriou IM, Schöpe PC, Annibale P, Scheerer P, Krude H, Lohse MJ, Biebermann H, Kühnen P. Differential Signaling Profiles of MC4R Mutations with Three Different Ligands. Int J Mol Sci. 2020 Feb 12;21(4). pii: E1224. doi: 10.3390/ijms21041224. PMID: 32059383
Rodríguez-Espigares I, Torrens-Fontanals M, Tiemann JKS, Aranda-García D, Ramírez-Anguita JM, Stepniewski TM, Worp N, Varela-Rial A, Morales-Pastor A, Medel-Lacruz B, Pándy-Szekeres G, Mayol E, Giorgino T, Carlsson J, Deupi X, Filipek S, Filizola M, Gómez-Tamayo JC, Gonzalez A, Gutiérrez-de-Terán H, Jiménez-Rosés M, Jespers W, Kapla J, Khelashvili G, Kolb P, Latek D, Marti-Solano M, Matricon P, Matsoukas MT, Miszta P, Olivella M, Perez-Benito L, Provasi D, Ríos S, R Torrecillas I, Sallander J, Sztyler A, Vasile S, Weinstein H, Zachariae U, Hildebrand PW, De Fabritiis G, Sanz F, Gloriam DE, Cordomi A, Guixà-González R, Selent J. GPCRmd uncovers the dynamics of the 3D-GPCRome. Nat Methods. 2020 Jul 13. doi: 10.1038/s41592-020-0884-y. Epub ahead of print. Erratum in: Nat Methods. 2020 Jul 23; PMID: 32661425
Schulze A, Kleinau G, Neumann S, Scheerer P, Schöneberg T, Brüser A. The intramolecular agonist is obligate for activation of glycoprotein hormone receptors. FASEB J. 2020 Jul 10. doi: 10.1096/fj.202000100R. Epub ahead of print. PMID: 32648604